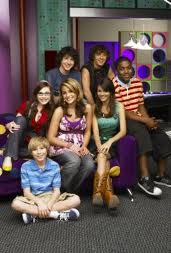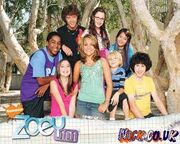 Zoey 101 is an American television show that ran from January 2005 to May 2008. It was created by Dan Schneider, produced for Nickelodeon and was syndicated worldwide. The show stars Jamie Lynn Spears as teenager Zoey Brooks. It was initially filmed at Pepperdine University in Malibu, California, then at stages in Valencia, Santa Clarita, California beginning in season 3. It was nominated for an "Outstanding Children's Program" Emmy Award in 2005.
In season one, Zoey Brooks (Jamie Lynn Spears) and her younger brother Dustin arrive at Pacific Coast Academy (PCA), a school which recently went co-ed after being a boys' school since its founding. Zoey meets her first friend Chase Matthews (Sean Flynn), who, after meeting her, realizes that he has a crush on her. Zoey then meets her roommates, tomboy Dana Cruz (Kristin Herrera) and boy-obsessed, girly-girl Nicole Bristow (Alexa Nikolas). She also meets other friends aspiring scientist/inventor Quinn Pensky (Erin Sanders) and humorous Michael Barret (Christopher Massey), and rich, spoiled and obnoxious frenemy Logan Reese (Matthew Underwood).
In season two, it's a new year at PCA, and Dana has left for the European exchange network. Zoey and Nicole get a new roommate, Lola Martinez (Victoria Justice). Lola, being a remarkable actress, tricks Zoey and Nicole into thinking she's someone else. At first, they are not happy about getting a new roommate. They go to the housing office and try to talk a housing director into letting them chose their new roommate but then Nicole knocks down her shelf of antique perfume bottles breaking them to pieces. They are then told to never come back again. Worried, the next day their new roommate Lola Martinez tricks them into thinking she is a goth voodoo punk freak (she even tried piercing her tongue in their dorm) and they try to find a way for her to leave. However, they catch Lola talking on the phone to her friend telling her how well her little scheme has worked - she's been caught. Zoey and Nicole confront her and she admits to it and confesses that it was an acting exercise. Zoey and Nicole forgive her and they become the best of friends and are so thankful they've been together. Their affection can also be seen in the next two seasons.
In season three, Zoey and the rest of the gang return to PCA. She and her friends are 15 and Dustin is 12. Nicole has been enrolled in an all-girls' school because of a condition she has, called Obsessive Male Gender Disorder (OMGD). This causes Zoey and Lola--much to their dismay--to become roommates with Quinn, after she's accidentally assigned to a dorm that doesn't exist by Coco, their dorm parent. At the end of the season, in the "Goodbye, Zoey?" TV film, Zoey transfers to Covington (a new boarding school) in England. After a webcam malfunction, she finds out that Chase loves her. She finds out when Chase left his video camera on when he was video chatting with Zoey when he was unaware he was telling his roommates about how he doesn't just miss Zoey, but loves her too.
In season four, the final season, Zoey returns to PCA, only to find that Chase transferred to Covington since he thought Zoey was there. Zoey and Chase reveal their love for each other and want to be together. Chase has to stay a full semester at Covington, though. When they finally had their first date over web chat, it didn't go well, so they decided to put off their relationship until Chase has returned. Meanwhile, Logan and Michael get a new roommate named James Garrett (Austin Butler), who eventually becomes Zoey's boyfriend. Quinn and Logan begin to date, but they hide their relationship from their friends. In the series finale, entitled "Chasing Zoey", the kids get ready for the prom. Zoey and James end their relationship, and Chase surprises Zoey once he returns home to PCA. They finally have their long awaited first kiss and begin to date.
Re-runs and Syndication
Edit
After the series aired its final episode in 2008, it was shown in reruns on Nickelodeon until November 23, 2008, though the last official airing of Zoey 101 on Nickelodeon aired on January 4, 2009 with the rebroadcast of the Chasing Zoey movie. After splitting from Noggin (now Nick Jr.) and becoming its own 24-hour cable TV channel, The N ran the series from December 31, 2007 to September 25, 2009, and continued to air on the channel after The N rebranded as TeenNick where it ran from September 28 to November 27, 2009. The channel aired the episode "Back to PCA", along with the Nickelodeon original movie Spectacular!, the iCarly TV special "iFight Shelby Marx", and the True Jackson, VP episode "True Crush", as part of the special programming block on Nickelodeon, "A Very Victoria Night", featuring Nickelodeon originals starring Victoria Justice, on October 10, 2009.
The series returned to TeenNick with a six-hour Memorial Day marathon on May 31, 2010, and currently airs in a three episode block on weekdays and a four episode block on weekends, with the last episode of the block replaying the following day; from May 31-July 25, 2010, TeenNick aired only the final three seasons of Zoey 101 (with the exceptions of the season three episode "The Favor Chain", which the channel omits from the show's entire broadcast cycle for reasons unknown, and the season two episode "Haunted House", which the channel will only air during special Halloween-themed programming), but on July 26, 2010 TeenNick began airing episodes from the first season as well. In Canada, reruns of the series air on Family weeknights at 10:00 PM EST/PST, as that series originally debuted on that channel on March 25, 2005 and the series finale aired on September 12, 2009 due to a late schedule. The episode "PCA Confidential" aired on December 14, 2007 because it was part of Season 3. The series has aired in Canada alongside Ned's Declassified School Survival Guide, which originally aired on Family as well. Unlike Nickelodeon, Family aired the series in the pan and scan format. In Latin America, the series is still airing (2012).