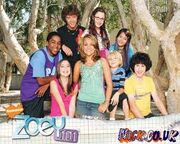 Zoey 101 is an American television show that ran from January 2005 to May 2008. It was created by Dan Schneider, produced for Nickelodeon and was syndicated worldwide. The show stars Jamie Lynn Spears as teenager Zoey Brooks. It was initially filmed at Pepperdine University in Malibu, California, then at stages in Valencia, Santa Clarita, California beginning in season 3. It was nominated for an "Outstanding Children's Program" Emmy Award in 2005.
Ad blocker interference detected!
Wikia is a free-to-use site that makes money from advertising. We have a modified experience for viewers using ad blockers

Wikia is not accessible if you've made further modifications. Remove the custom ad blocker rule(s) and the page will load as expected.