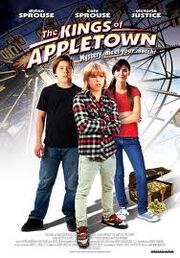 The Kings of Appletown was a 2009 feature film starring Victoria Justice and the Sprouse twins, Dylan and Cole.
The film is about two cousins - Will and Clayton (Dylan and Cole) - who witness a murder, but out of fear decide not to tell anyone. They and their friend Betsy (Victoria), whose father has been wrongfully accused of the crime, go on a journey to find the real killer, and at the same time redeem themselves.
This was the second time Justice worked with the Sprouse twins. The first was on The Suite Life of Zack & Cody where she played Rebecca.
There was a limited release of the film in December 12, 2009, and the film is said to be back in post-production, but Victoria has said nothing about filming the project.
On April 13, 2009 the film had a special screening at Lowes in Lincoln Square in New York City. The screening benefited the Joseph Horvath Memorial Scholarship Fund.
It is unknown how post-production will do for the film, since Victoria, Cole, and Dylan grew up.
Ad blocker interference detected!
Wikia is a free-to-use site that makes money from advertising. We have a modified experience for viewers using ad blockers

Wikia is not accessible if you've made further modifications. Remove the custom ad blocker rule(s) and the page will load as expected.